I've made a point to ask the kids what kind of cake they want for their birthday and when Eleanor said a Bucky cake (pirate ship from Jake and the Neverland Pirates Birthday party) I knew I had my work cut out for me.
Looking for other easy fun cakes? Check out my Mater Brownie Cake and Paw Patroller.
I usually make a cake with a character pan and decorate it but attempting a 3D pirate ship wasn't something I thought I would be able to do. Thankfully Mike was the one who said we could do it and we worked together to come up with a great idea.
Pirate Ship Cake Supplies Needed:
3- boxes of cake mix
3- containers of icing (2 chocolate 1 vanilla)
Cardboard (we put 2 cake board together and taped them to make them long enough)
Blue Cellophane
Chocolate chips
Graham Cracker
2 -blue Airheads
1- red Airhead
1- Dowel rod
1- Pretzel rod
1- green curling ribbon
1- party horn blower (canon)
How to make a Pirate Ship Cake:
Mixed 2 cake mixes together and used a 9 x 13 and filled it with 3/4 of the mix.
Then filled a loaf pan with the remaining batter.
We used an additional mix for 2- 9 inch round pans.
Splitting 1/2 and 1/2.
Note: Make the cakes earlier in the day so they have time to cool.
How to carve a Pirate Ship Cake:
I'm going to let the pictures explain this one, but you can see that we have the cardboard base and water (blue cellophane) all prepped.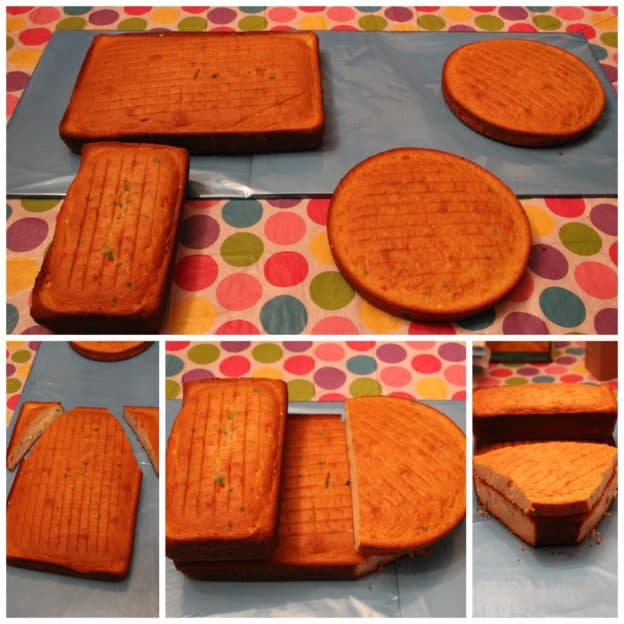 How to make railings for the pirate ship cake:
We heated up in a double boiler (a bottom pot with water and a top pot with the chocolate) some chocolate chips, with a little vegetable oil to thin it out.
We measured where the railings would be so we would know exactly how tall and long we would need.
Place the chocolate in a plastic baggie, snip one corner and pipe out the railings and back.
NOTE: We placed it in the freezer and didn't put it on the cake till right before the party so it wouldn't break or melt
How to decorate a pirate ship cake:
I let the chocolate icing do it for me. I did take some vanilla and add yellow dye for the yellow piping. (Plastic bag with corner snipped off)
I used a red Airhead candy for the slide
cut up 2 blue Airheads for the door and manholes (I used a quarter for the size).
The canon for the ship was a mouthpiece from a party horn, and I used a dowel rod and some paper for the sail (I could have used a pretzel rod if I wanted though).
The island is just crushed up cinnamon graham crackers with a pretzel rod and curling ribbon on top (with lots of icing to keep it there) for the tree.
I threw on a few chocolate covered raisins for some coconuts, it's the small details that count!
I was surprised with how easy and adorable this cake turned out. It took time, but I would say it was probably under 2 hours of decorating with both Mike and I working as a team. We were lucky that we already had the characters so we could just add them on (Note: add them after you icing the cake not the next day).
I'm so glad Mike pushed for the 3-D cake it really was an awesome centerpiece for the party and the memory of seeing the kids face was worth the time it took to make it.