Nothing says sweet like a big fluffy delicious cone of Cotton Candy! I LOVE cotton candy, and if the kids are allowed to have it they gobble it up as well. So if you're looking for a sweet, easy no-sew costume I've got you covered with this cotton candy costume.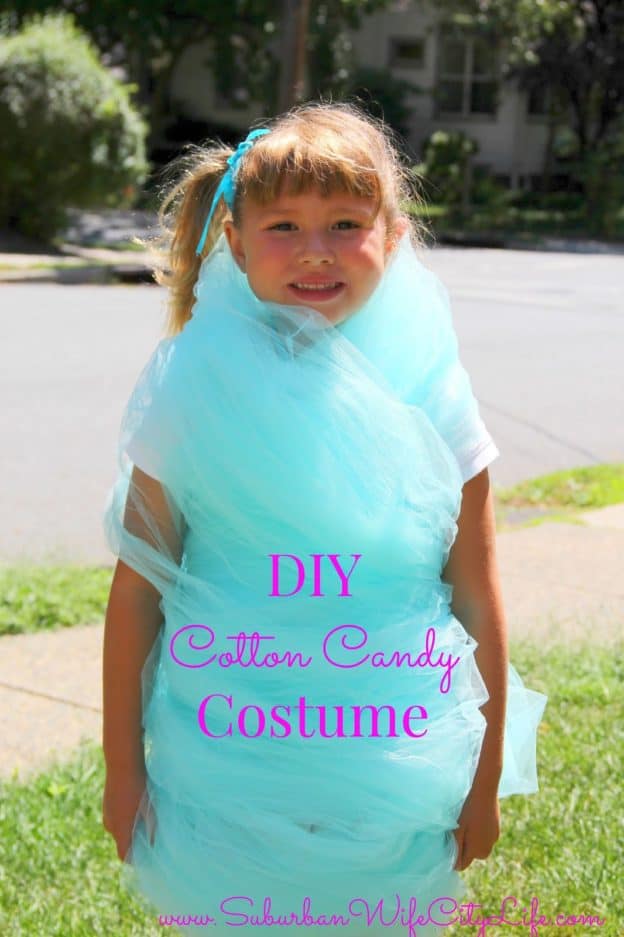 Cotton Candy Costume
I actually did this costume for myself about 8 years ago, and decided to try it out on E and see how it would work. It's cute on both an adults and kids and super quick.
No Sew Costume Supplies Needed:
2 rubber bands
2 safety pins
White shirt or sweatshirt
White pants or sweatpants
How to make a DIY Cotton Candy Costume:
Put on the white pants and shirt
Tie a rubber band around each end of the tulle.
Safety pin one end of the tulle to the bottom of your shirt.
Wrap the tulle around the body. When you get to the top wrap it over the shoulders
Take the end of the tulle and tuck it into a fold and pin it on the inside.
Fluff out the tulle to make it look fluffy!
That's it. It's easy and simple and you'll look very sweet!
Looking for other DIY costume ideas?
Check out these:
DIY Captain Hook
DIY Minion Costume
DIY Toothless Costume
originally published September 1, 2015