I love when I see pictures of families at Disney with matching shirts. I think it's so cute and makes for pretty great photos. I knew I needed to make some for us, but I had to keep in mind it needed to be something Mike would be willing to wear so I decided to go classic Mickey.
Family Disney Shirts
*Affiliate links are included below
DIY – Family Disney Shirts Supplies needed: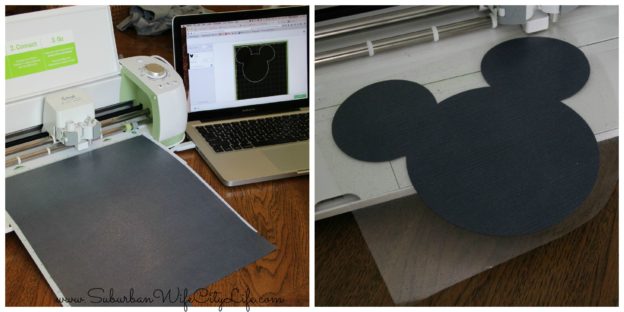 How to make Disneyland Shirts
If you don't have a Cricut you can still do this, but just use scissors to eyeball and cut out your shape,
I decided to use the classic Mickey ears, so I cut them out at 5 inches for adults, and 3.75 for the kids. For each letter I used the Mickey font and kids.
How to make Disney World Shirts with Cricut
Settings: Make sure your Cricut it set to cut in mirrored image and your machine is on the Vinyl Iron-on tab. If you're cutting with glitter iron-on vinyl then you should click over one more spot.
Place your Iron-on vinyl on the mat face down. That's the shiny side.
After you cut out the designs remove excess vinyl, aka: weed.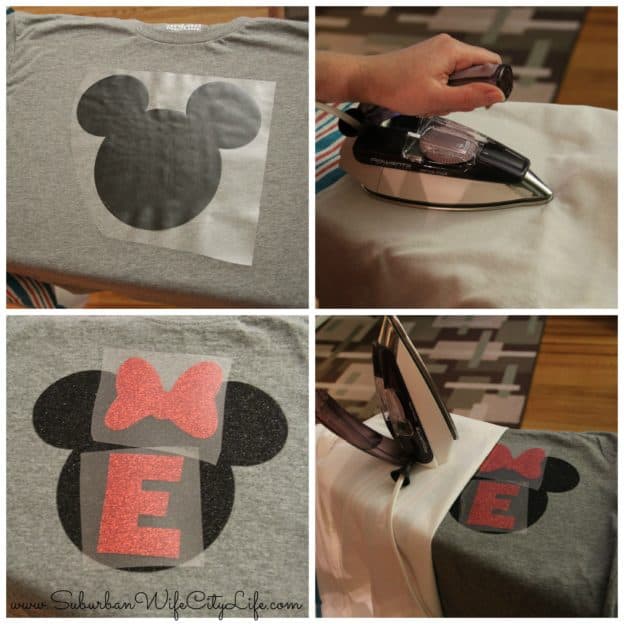 Place the cut out were you want it to go on the t-shirt and then take a blanket or cheesecloth or thin towel (I like to use the baby blanket you get from the hospital) and iron on the design. I love having an iron in my craft room, but for this project I pulled out both irons.
DO NOT move the iron all over. You just want to place it on top and then move to the next spot. Make sure you take your time doing this. When you think you're done start to slowly remove the plastic, if you see the vinyl lifting at all start again.
If you want to add layers you have to do each on separate. For the letter and bow just place them where you want them and repeat the previous step.
Note: This worked fine, but I wish I had cut the letter and bow out on the base in different layers. This way I knew it was in the right spot. It's called slicing and here is what it looks like.
The bigger the cut out the more time it will take. You don't want to lose an ear half way through the day so don't speed through this and make sure you press down and get a good seal.
Matching Family Disney Shirts
Overall I love how these shirts turned out, and made 3/4 sleeved ones for our trip in February. We got both compliments and great photos the days we wore them. It brought us together as a family and since I didn't put a year on them we can wear them again in the future.
Do you like to wear family shirts when on vacation?
Make sure you also check out my
Disney Cruise Family Shirts
DIY- Faith, Trust and Pixie Dust Disney Quote Shirt!
Planning a trip to Disney? I've got lots of great tips: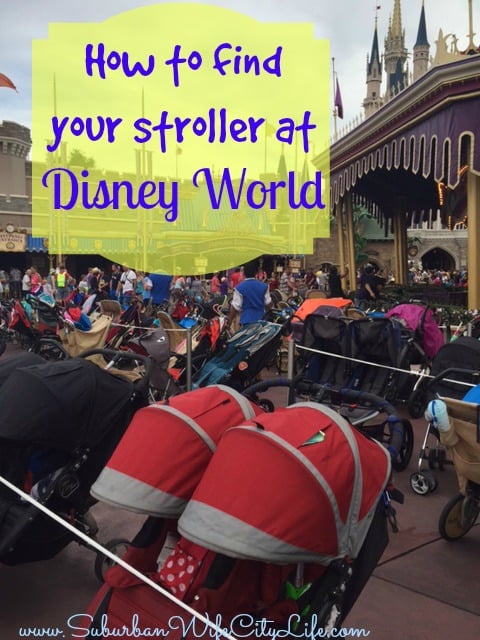 How to find your Stroller in Disney,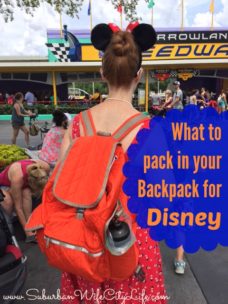 What to pack in your backpack
5 treats to enjoy!
published June 18, 2015