I'm getting very excited for the fall and Halloween this year. It's may seen early right now, but it will be here before you and know and I've had a few ideas for some fun costumes since last Halloween. So II'm starting off with a simple and tasty costume parents and kids know well; a GoGo Squeez Pouch!
GoGo Squeez Costume
My family eats GoGo Squeez like crazy. We always have a pouch when we're out or on the go and I thought it would be a perfect costume. This is actually a no-sew costume and it cost me around $10 to make. It does take some free hand drawing, but overall it's pretty simple and easy to make.
How to make a GoGo Squeez Costume
Supplies needed:
Hot Glue Gun
1/2 yard of light green/lime colored felt
Craft Foam (the longer pieces) Dark green, Kelly Green, light green, white and red
White Chalk Marker
Toothpick
Headband
Scissors
2 stick on Velcro pieces (to connect the sides)
GoGo Squeez pouch for reference
Step 1: I measured the felt against my sons shoulders to see how wide I wanted the pouch. Don't go too small or too big. I wish I had gone a little bit wider so I could connect the sides a little better
Step 2: On the fold cut a half circle (Make sure you can fit the head through and it's not too big or too small
Step 3: Use the craft foam to create the letters and background. I used a pen with a cap on it to trace out my design (it made enough indentation that I could see, but didn't ruin the piece of foam) Since I was doing this free hand I needed to be able to make mistakes.
Step 4: Cut everything out, and use the White Chalk Marker to write anything that's needed
Step 5: Hot glue the pieces to each other
Step 6: Place everything on the felt, and move things around till you know exactly where you want it to go.
Step 7: Hot glue everything on to the felt
Step 8: Trace out the top of the GoGo Squeez pouch and cut it
Step 9: Cut out 2 additional squares of the same color foam
Step 10: Attach the top to a small piece of foam
Step 11: Attach to the headband
Step 12: Glue the bottom piece on
Step 13: Optional – If you want to attach the sides together use some no sew Velcro to attach (but don't do it too low you want them to be able to walk
DIY GoGo Squeez
Overall it took me about 2 evenings to make this, and I love how it turned out. My son and daughter have enjoyed playing in it, and I also feel like if I wanted I could wear it. I'm sure it will get chuckles from parents and kids will want to gobble it up.
Do you have a favorite GoGo Squeez flavor?
Make sure you check out my other DIY costumes!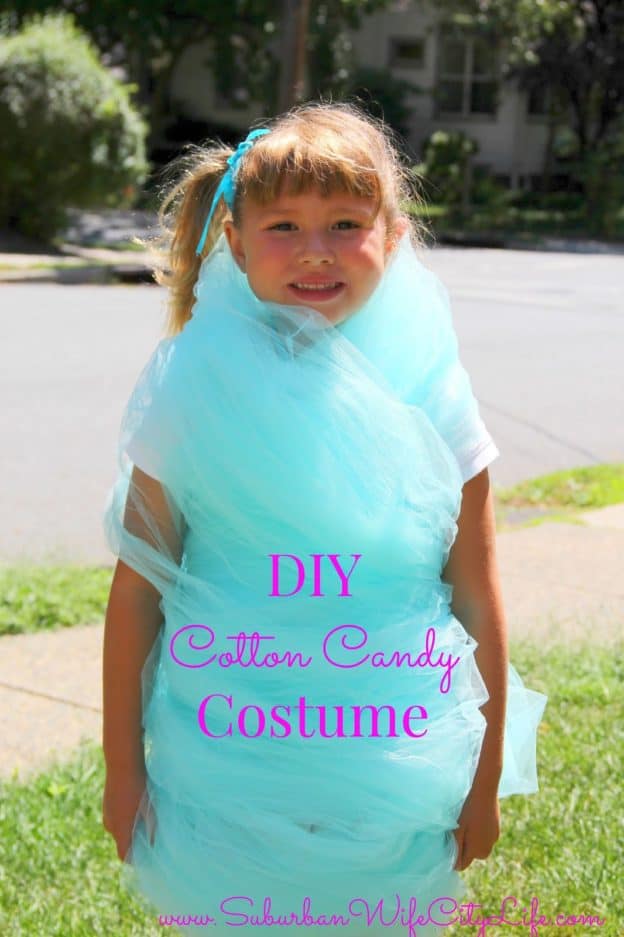 Cotton Candy,
Captain Hook,
Ernie, and much more!