Are you looking for the perfect Valentine for a teacher or friend, Grandparent or Mom? Do you want to give something special and cute they can enjoy all day? Then I have the perfect project for you with this DIY Valentine Felt Wrist Corsage.
Last year I made these for the daycare workers and they were a hit. Now I can't wait to see him deliver these to his girlfriends, sister and Mama!
You can also find some other Valentine's Day Projects and Free Printables: Cupid Slushies, Twisty Pencil Valentines, and Valentine's Breakfast.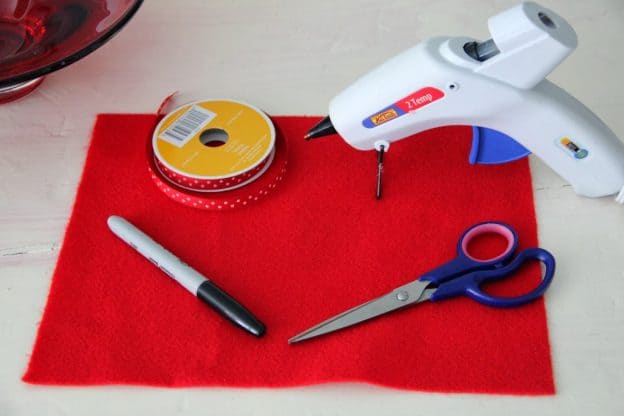 -1 Piece of Felt
-Grosgrain Ribbon (don't use satin it won't stay tied)
-Scissors
-Glue Gun
-Marker
What to cut: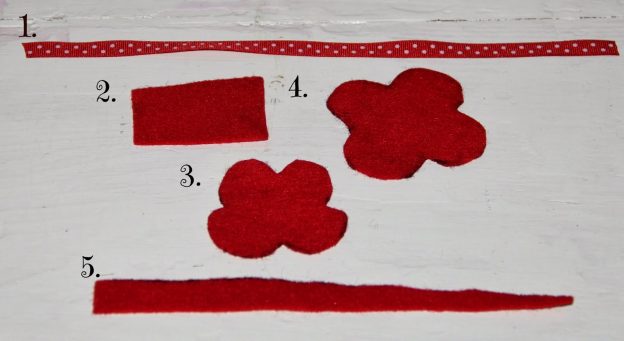 How to make a Felt Wrist Corsage
Step 1: Cut the ribbon the length you want so you can tie around your wrist.
Step 2: Cut the base from the felt, it's a simple rectangle, and doesn't have to be perfect as you can see from mine. It's about Inch x Inch and a half
Step 3: Cut the bottom of the flower, I just traced a clover like shape on paper first and used it as my template.
Step 4: Cut the middle of the flower from the felt. This one should be similar to the bottom but a little smaller.
Step 5: Cut the long center strip, in a wave like shape starting big and getting smaller. Mine is about 6 inches.
Step 6: Take the thin side of the center strip and roll it up gluing the end
Step 7: Lay the ribbon out on a square of felt and glue
Step 8: Glue the bottom of the flower to the square
Step 9: Turning the middle at a different angle glue it to the bottom of the flower
Step 10: Glue the center
Now you have a wonderful gift for any lady in your young mans life! Remember, it doesn't have to be perfect. If the flower shape looks lopsided it's okay, I would say it's even better! This is a fun simple craft that you or if you're kids are a little older can make for minimal costs.
Note: Girls can give a corsage too, so don't think Eleanor won't be handing these out as well! Happy crafting and Valentine's Day!
Looking for other Valentine's DIY's check these out:
Valentine Pirate Hat
Valentine Napkin Rings