Universal Orlando has created a world like no other. The Wizarding World of Harry Potter is a place you can easily get lost in for the day, I know we did, and part of the reason was because we decided to buy a wand.
I won't lie before we even entered the park Mike and I had a discussion that we would not buy a wand for Eleanor on this trip. We felt she was too young, and she didn't really know the story so we would rather wait till the next time. Who were we kidding?
As we walked through Hogsmeade and saw the line for the wands, I thought easy we can just avoid it all together, but when we got to Diagon Alley we realized that Ollivanders had no line at all so why not check it out?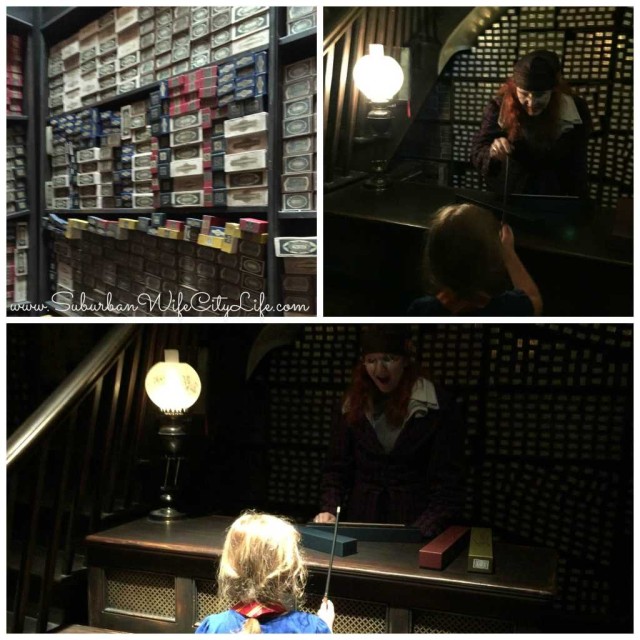 As we walked in a wizard escorted us through a maze of wand boxes and told us the wandmaker was available and that we couldn't use flash photographer in the room. Okay, and then we walked into a room where it was just us and the wandmaker, and the door closed behind us. She told us her story about how she's been making wands for years and asked who was looking for a wand. Eleanor said she was and the wandmaker was skeptical because "With great power comes great responsibility" and she looked quite young.
As she asked Eleanor questions she pulled out a wand for her to test, and this is where the magic really began. I won't give away the experience, but as we watched the wandmaker interact with Eleanor we felt as if we had a private show, and when the Hawthorne wand chose Eleanor we knew she had to have it.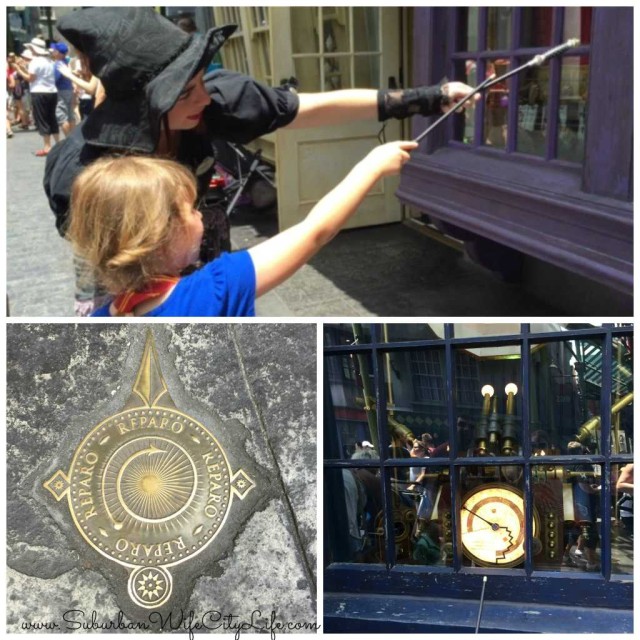 This isn't just a play wand though, it's an interactive one. What does that mean? There are tons of different areas in both Hogsmeade and Diagon Alley that you can practice your wizarding skills.
You receive a map with your wand, but you'll also find markings on the ground telling you what to say and the direction and shape you should move your wand. We spent hours walking through and practicing our magic. There were also witches and wizards around to help the younger ones practice.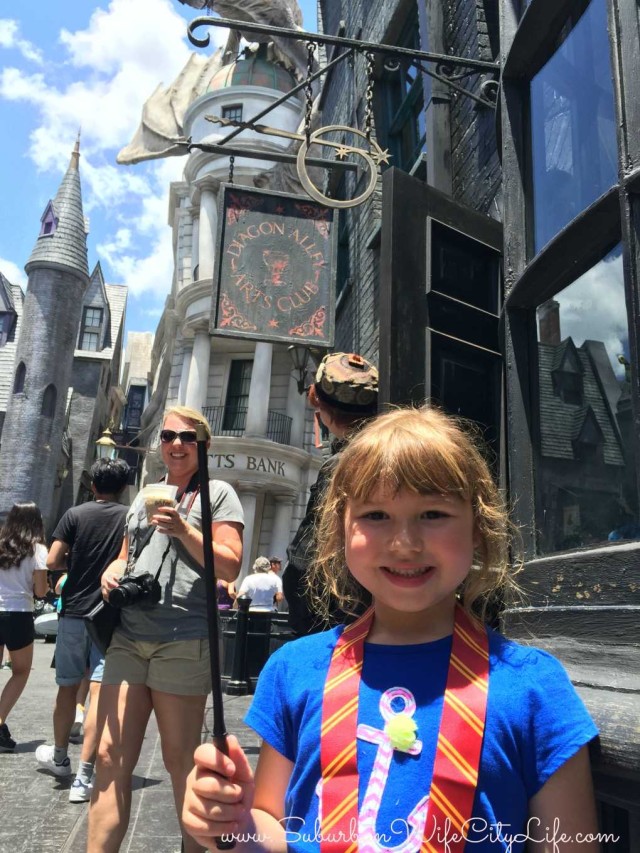 Purchasing this wand was the best souvenir we could have given Eleanor. Not only did it give us hours of entertainment, but it also gave a young wizard an amazing memory. She truly believes the wand chose her and takes great pride in sharing the details with anyone who will ask.
It's a big price tag coming in around $50, but it was worth every penny, and we're so glad we decided to check it out. The experience was so personal and day was so much more fun and the budding wizard is only just beginning.
We did not have the same experience when returning a few year later with our son as he wasn't chosen, but we had something else magical happen for him. Check out these Wand repair Tips and I also have a shirt: Today the Wand Chooses Me!
Make sure you check out my other Universal post: Universal Studios really is for everyone!
Disclaimer: I was provided media passes to Universal Orlando in order to facilitate this review. I purchased the wand personally. As always all opinions are my own.