There's something special about the city of Brotherly Love and it's pretty amazing how many fun and free things there are to do. I've pulled together a list of Free things to do in Philly, PA that are perfect for family friendly travels.
Historical Things to do in Philly
Independence Visitor Center
You'll want to start here and early, as this is where you're able to get FREE tickets to Independence Hall, pick up a Junior Ranger book, and some Passport stamps, and just kind of walk around learn see, and use the restroom. This is also where you can start to collect the cards from National Park Rangers.
Independence Hall

Once you've gotten your times ticket from the Visitors Center make sure you pay attention to your time and arrive 10-15 mins prior and go to the bathroom. There is no bathroom in Independence Hall and you'll be there for at least an hour.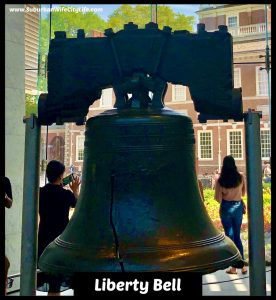 Liberty Bell
The Liberty Bell is walk through experience. The line may look long, but it moves pretty quickly, the big hold up is going through security. Otherwise you'll spend about 30-60 mins walking through.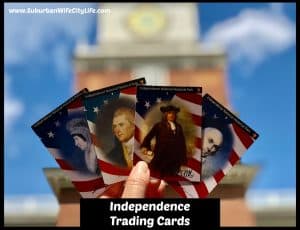 Independence Trading Cards
There's a pretty cool program where you can earn different trading cards from Park Rangers. They make you answer questions and the rangers will ask questions for you to earn the cards. There are 30 to collect and range from "Faces of Independence," "Civil War to Civil Rights" and "Heroes of the Underground Railroad"
Thaddeus Kosciuszko National Memorial
This is one of the 4th least visited National Park attraction in America, and we found it really interesting. We've traveled over the Kosciuszko bridge in NYC, but exploring just what this man did for America was very cool. Make sure you call ahead as this has limited days and hours of operation.
Macy's and the Wanamaker Organ
I know what you're thinking why is the Macy's something we should see? Well inside is the world's largest playing pipe organ. To say it's beautiful is an understatement. They do have someone playing it at certain times Monday-Saturday and during Christmas I've heard the decorations and holiday concert is pretty spectacular.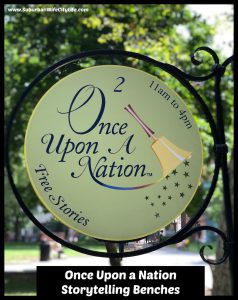 Once Upon a Nation Storytelling Benches
As you walk around the historic area you'll see signs for this interactive family experience that allow kids to become a park of history by reenacting activities of days gone by.
Edgar Allan Poe National Historic Site
It's only open Friday-Sundays and the hours are limited, but if the timing works it's a great one to check out and see the Raven!

Places to eat in Philly
Now I want to be clear these are not free places to eat, but these are places that are free to enter and walk through, and if you plan to be there around meal time then even better.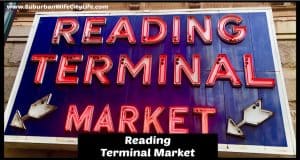 Reading Terminal Market
This market is free to walk around and so interesting. I highly suggest getting your meals here, because there's something for everyone to enjoy and it's all so tasty. Cheesesteaks, Amish baked goods, Pennsylvania Dutch treats, Pretzels and so much more.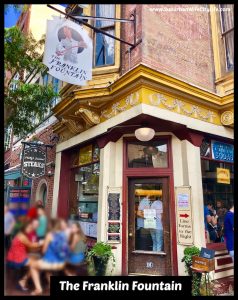 The Franklin Fountain
This old style ice cream shop gives you the feel of days gone by. It opened in 2006, and is a great stop for an afternoon pick me up. I recommend the Franklin Mint Chip! Tip: Stop by Shane Confectionery a few doors down.
Shane Confectionery
America's Oldest Candy Store is in Philly and it sure is something to see. Est. 1863 you'll walk through and feel like you've stepped back in time. It doesn't matter if you're picking our your favorite candy or walking through to look. They also offer free samples of different items. Tip: Franklin Fountain is a few doors down!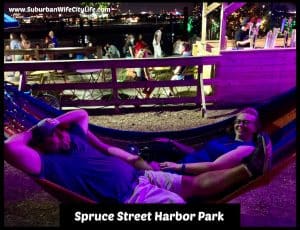 Spruce Street Harbor Park
This park is filled with food trucks, but is so cool to hang around and relax in. Art installations have brought a beautiful vibrancy to this park, and if you can score one of the hammocks to hang around in you'll never want to leave.
Best Photo Spots in Philadelphia
LOVE sign
The city of Brotherly love is iconic with this sign, by Robert Indiana can be found at John F. Kennedy Plaza, 15th Street and JFK Boulevard, or better known as LOVE Park.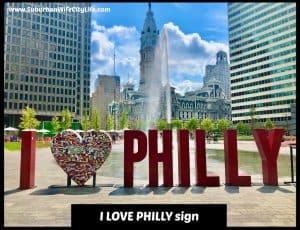 I LOVE PHILLY sign
Right across from the LOVE sign you'll see the I LOVE Philly sign so make sure you grab a photo here.
Rocky Statue and Stairs
Running up the 72 stairs to the Philadelphia Museum of Art is totally a photo or video moment to create. Plus there's the Rocky statue! Fun fact: The "Rocky Steps" are considered to be the 2nd most famous filming location in the world!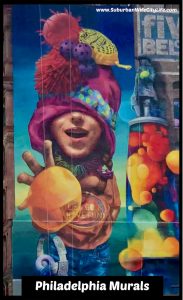 Philadelphia Murals
These can be found all throughout Philly, and I love how immersive they can be.
We ventured over to Franklin Square Park and were pleasantly surprised to find this gem. They do have a carousel (there's a fee to ride) but the fountains are really what we loved about this. With small shows happening through the day we couldn't help but photograph and enjoy this park.
Free things to do in Philadelphia
There's so many fun things to do in Philadelphia and I'm just scratching the surface. It doesn't matter if it's a day trip, weekend or week, you'll want to to keep heading back to this city to explore, learn and have fun!