Graphic Novels have become the most popular way for kids to get excited about reading, learning, and seeing themselves through books. We are constantly looking for graphic novels for tweens and this list pulls together over 100 books that should be checked out.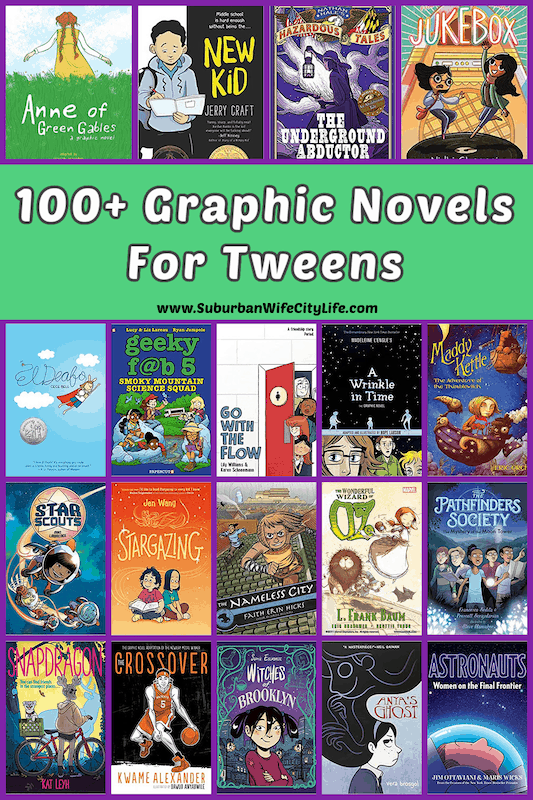 Books are an addiction for me. I love to read myself, but enjoy giving them to my kids, or as gifts, so it's no surprise that I also have multiple posts on this topic (Chapter Books for K-2nd grade, Graphic Novels for K-3rd grade) but as I enter the Tween phase (8-12 years old) with my children I know it's even more important to cultivate a diverse, thoughtful list that all genders, nationality, races and disabilities will be able to read, enjoy and feel included.
Graphic Novels for Tweens
This list is filled with tales of upper elementary and middle school troubles. If your tween has plowed through the list of Raina Telgemeier then check out these series.
Graphic Novels with Diverse Characters
Graphic Novels Based on Literary Books
As much as I love a classic it's so hard to get a tween excited about sitting down and reading that dusty book. This allows a new generation to read that classic in a fresh visual way, and while some are adaptations I love this might be the spark into reading the novel at some point.
Graphic Novels about History
I love when you're reading a graphic novel and you can learn about something historical. It can take you to a different time and visually help you understand what happened and who knows what fun facts you may learn.
Graphic Novels about Mythology
Who knew mythology would be so popular amongst tweens? This category was one I was surprised to find so many great stories about. I love how they really allow for imagination.
Graphic Novels about Superheroes
Graphic Novels for Girls
I've pulled together this section, but let me very clear these are not just for girls. These have strong female characters and protagonists. Both my son and daughter love reading these and I think it's important to make it clear that these books are for both girls and boys.
Graphic Novels about Science Fiction
Mystery Graphic Novels for Tweens
Graphic Novels about Fantasy
Of course there's also the fantasy side of things where you explore space, spells, time travel and fantastic creature.
It's a lot of books I know; but it's important to make sure we're feeding these young minds with different stories in a way they enjoy reading, and I know I've also found myself getting caught up in the stories which gives us some great conversations together about the topic or characters. It's important to me that I make sure my kids ask questions and learn empathy and reading books is a great way to do these things.
Other Book Collections on SWCL