Last summer while on vacation with the extended family (18 people) we needed a way to make corn on the cob easily. Since we usually travel with a cooler in our car we decided to put it to use to make Cooler Corn.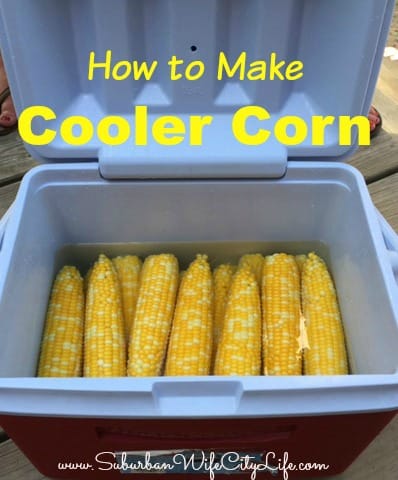 Can you make Corn in a cooler?
I know what you're thinking. Seriously, you can make corn on the cob in the cooler? Yep, and it's actually a lot easier then you think. There's no household pot that's going to hold 18 ears of corn, so this keeps the cook out of the kitchen and corn fresh.
How to make corn on the cob in a cooler
The cooler works as a way to keep the water hot, just like it would keep the ice cold, so we're just looking at in the opposite temperature.

I pulled together a quick How to video for you, but I'm also going to lay out all the steps here too
Cooler Corn
Step 1: Clean your cooler (it's best to be safe and just do a quick clean, but be careful not to use chemicals)
Step 2: Fill a pot with water and bring to a boil
Step 3: Shuck all the corn (this is my least favorite job of summer)
Step 4: Fill the cooler with your corn
Step 5: Once the water is boiling fill the cooler (be careful not to put your face over it)
Step 6: It's key to make sure the corn if fully covered with the hot water (that's how it cooks)
Step 7: Let sit for 20-30 mins.
Step 8: Use tongs to take the corn out because that water is hot!
How to cook a big batch of corn on the cob
That's it. It takes a little prep work, but if you're prepping for a party or dinner this is a great set it and forget it kind of thing, and it will keep the corn warm for a while. Plus who doesn't love corn on the cob at a BBQ or Summer Picnic. It's also super helpful when I'm making a batch of my Chicken Corn Soup!
I would love to know will you give Cooler Corn a try?
This post may contain affiliate links.