Christmas in New York City is my favorite time of year. From the family-friendly shows such as the Radio City Christmas Spectacular to the Holiday markets to watching the Ball drop in Times Square this NYC Bucket List has something for everyone.
With the holidays here it's time to think about all the things you want to do, unless you're like me and have been planning for months. Make sure you check out my other NYC posts: Radio City Backstage Tour, Where to buy discounted Broadway tickets and if you're coming around Thanksgiving Macy's Thanksgiving Day parade tips!
Things to do in NYC at Christmas
If you're planning to visit the city there are so many different holiday activities to see or do. I've compiled a list of my top 10 favorites.
Does it snow in New York at Christmas?
The odds of it being a white Christmas in NYC are pretty slim. That's not to say it won't happen, as there have been a few days each December where it does snow. I recommend following along with the weather if you're planning a visit.
Is Christmas a good time to visit New York?
I personally think anytime is a good time to visit NYC, but there's something special about Christmas with the lights, and extra events.
10 things to do at Christmas in New York City
Visit Rockefeller Center – There's so much to do in Rockefeller Center, but seeing the tree really brings the holidays alive. It's also beautiful to look at the angels lining the way and all the people skating. If you're really lucky maybe you'll get to see someone get proposed to. I did last year and even though I didn't know the people it was very magical.
Where are the big Red Balls in NYC?
Walk 6th Ave and look at the over sized decorations – If you're already at Rockefeller Center just walk out to 6th Ave and look at the over sized decorations. I love the red ornaments in the fountain or the Christmas lights taller than me.
Window Displays – I love seeing these every year and watching the light show Saks (which is right by Rockefeller Center) The falling snowflakes just make me smile. Tip: If you can go late in the evening it's not as crowded.
Walk through Macy's and ride the wooden escalators and visit Santaland – Tip: Go first thing in the morning on a weekday and the line in non-existent. Also, they let you use your own camera so don't forget to bring it.
Holiday Markets – NYC has some amazing holiday markets. My favorite is the Union Square one, but there's also Bryant Park, Columbus Circle and some smaller ones throughout the city. These are not just street vendors, so take the time to walk around be amazed, and support an artist.
Ice Skate – It seems like more and more rinks are opening up, but the classic Rockefeller Center, Central Park or Bryant Park are the most known.
National History Museum Origami Tree – For 50 years the National History Museum has had a 13 foot origami tree with over 1,000 origami pieces on the 1st floor. Museum admission is needed for this, but who doesn't love to roam around this iconic museum seeing Dinosaurs, blue whales and so much more of history.
Ride the vintage Subway cars or buses – The MTA allows vintage subway cars on the tracks every Sunday between Thanksgiving and New Years on the M line. You just have to time it out. You can also see some vintage buses outside of Macy's occasionally during the week.
Take in a show – It could be Broadway or a holiday one, but there are so many options there's no excuse. Between different Nutcrackers, Radio City Christmas Spectacular and holiday musicals it's tough to choose.
New Year's Ball – You'll see it in Times Square ready to celebrate the new year. Take a moment to just look up and enjoy it's beauty. It's actually made by Waterford and sparkles like nothing you've ever seen.
Christmas in New York
There are so many things to see and I know I'm missing a ton. So tell me what are some of your favorite NYC holiday sights, events and activities?
Taxi Tips for NYC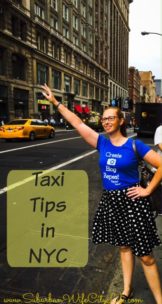 Radio City Stage Door Tour
Where to buy Discount Broadway Tickets
first published November 27, 2013