Last week Swiffer turned 18, that's right they partied like it was 1999 and celebrated becoming an adult. It's a big milestone for a brand, and honestly crazy for me to think how quick these past 18 years have gone.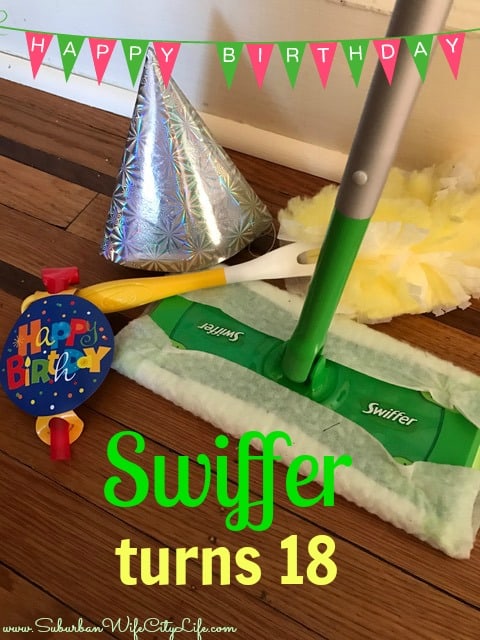 I know when I ventured out on my own as an adult Swiffer was new to the market. I can remember getting my 1st Swiffer and thinking, wow this is so much easier than a mop and bucket. I might actually clean my floors. What can I say cleaning wasn't my top priority, and still not my favorite thing to do, but if you've got a busy life than you should have a Swiffer.
As an adult there are hard choices to make and time is limited. What I love about Swiffer is how my whole family can easily use the products, I think of it as preparing my kids for when they are adults and on their own! It doesn't matter is we're dusting or sweeping the floor it makes cleaning easier and a little more fun. That's right my kids think it's fun to clean, and you can bet when they turn 18 they'll be getting a green box with the Swiffer essentials.
​I'm also going to let you in on a little secret, I love to dance while I clean, and use my Swiffer Sweeper as my partner. Those weekends of cleaning are always filled with music and I love adding a little a more style to my cleaning technique with my awesome dance moves.
While I do the quick sweeps and dusting around the house there's one think I know for sure, that I want to finish cleaning as quickly as possibly so I can get down on the floor and play with my family. I'm thankful that Swiffer helps me cross this task off my to-do list and allows me a little fun too.
Happy 18th Birthday Swiffer!
Disclosure: This is a sponsored post by Swiffer. All thoughts are my own.