This post is sponsored by BabbleBoxx. All opinions are my own!
The holidays are approaching and with that it's time to invite friends and family over for fun and merriment. To make this easy on everyone I've got some holiday party prep ideas that will ensure you're able to enjoy the fun.
Every year my family hosts New Year's Eve and with a mix of adults and kids we're want to keep things simple, but add a little fun into the mix with our food and beverages.
Jus Rol has pre made doughs that are easy to "just roll" out and go. If doesn't matter if we're making pies, puff pastry or pizza, they have options. We love to use this pizza crust because it is easy and quick. The dough is Non-GMO, no artificial flavors and made in the USA. I love to make a white pizza using Jus Rol dough, some gruyere cheese, sweet onions, garlic, and fresh tomatoes. With a cook time of 14 mins it doesn't take long, to have a fresh pie. I also like to drizzle a little balsamic on top to a sweet addition.
Flavor is something that should always be at a party, and my secret is Dorot Gardens. I'm able to avoid chopping, peeling and keep my kitchen a little cleaner. I love that I can keep these in my freezer and just pop out a cube or two when I need it. I can easily add some sweet onions, and garlic to my white pizza. The herbs are "fresher than fresh" and way more convenient. They have some great options and it can be found in the freezer section.
If there's one thing every party will have it's drinks. This new book Bar Menu is one I'll be flipping through for ideas. With over 100+ food recipes and 30+ cocktail recipes this will add fresh flavors and ingredients to your "bar bites". Written by award winning food and drink write Andre Darlington you know it's going to be tasty! This also makes a great hostess or gift for anyone who loves to entertain.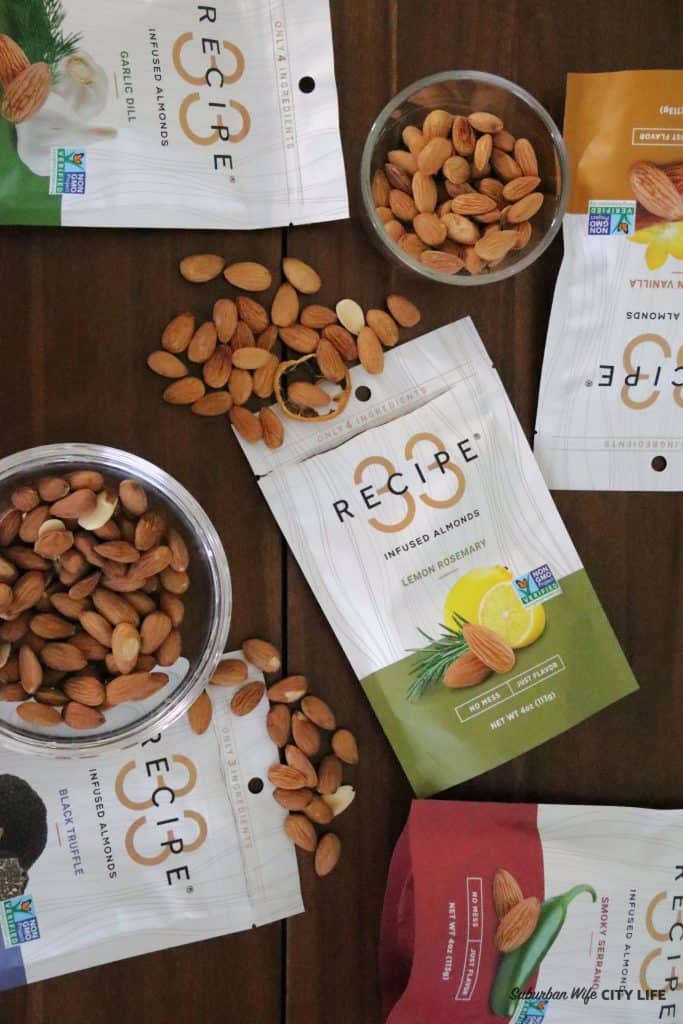 I always love to put out little bowls of almonds when I'm entertaining. It's even better when I can offer a variety of options and Recipe 33 has some unique flavor combinations with Black Truffle, Lemon Rosemary, Smokey Serrano, Garlic Dill and Cinnamon Vanilla. I get joy when I overhear someone say, these are so good, or hunt me down while holding the bowl to ask where I got them. The answer is easy Recipe 33 and I love that they are made with real ingredients. These also go great in a salad. Plus I have a code where you can save $2.00 on any 4oz bag. CODE: TryRECIPE33
A party can never have enough drinks, and while I enjoy mixing up some cocktails and mocktails, sometimes it's nice to have something ready to go so when I heard about Zing Zang Canned Cocktails I was intrigued. It's all set and ready for you to enjoy, just open the can. I love the Zing Zang Mango Margarita with Tequila Cocktail it's made with all natural ingredients. Of course the Zing Zang Bloody Mary with Vodka cocktail will make a great New Years Day morning drink. No one has time to measure it all out, so just grab a 4 pack and enjoy!
Of course when you're planning the party you've got to think about the invite, and Punchbowl is the Gold Standard for online invitations. It makes inviting, keeping track, and being able to update your guests easy and quick. With over 300 stunning online invitations that cover everything from Friendsgiving to Gingerbread Decorating, Cookies Swaps and more you'll be sure to find something that suits your needs.
Are you planning to host any holiday events this season?