Disney is the perfect family vacation, if you want to do lots of walking, ride fun family rides, eat delicious treats and meals and enjoy seeing your kids smile or nap as you push them around in a stroller. I've got some tips and tricks for how to find your stroller at Disney World that will keep you from wondering where that footman moved it!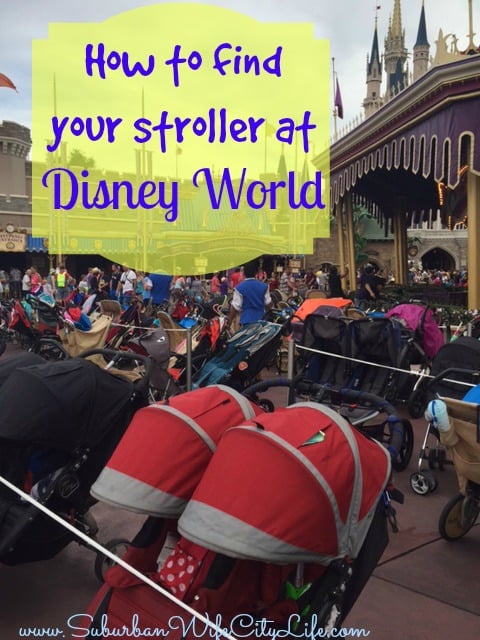 Should I take a stroller to Disney?
For this trip my kids were 5 & 3. Mike was adamant that we wouldn't need a stroller for our 5 year old. I fought him and borrowed one from my friends
The Chirping Moms
. In the end Mike agreed that we needed this double and were glad we had it. We would usually walk about 5-7 miles a days at this age, or be in the parks for 12+ hours so having one for the kids to nap or rest in was key.
Disney Stroller Tips
The hardest part about using a stroller is being able to find it when you got off a ride. You park your stroller and go to the ride or attraction and come out to find it's not in the same place. At first you think "Am I crazy?" but then you seen a pirate or footman moving strollers around and realize these cast members are reorganizing.
What to know about strollers at Disney
There are A LOT of double strollers and if you're renting one they all look pretty much the same. The City Mini Select is the most popular one I saw. So I've come up with some ideas on how to find your stroller quickly.
Disney Stroller Requirements
In 2019 Disney made some changes to stroller requirements. Strollers that are greater than 31 inches in width and 52 inches in length are not allowed. They have also banned Stroller wagons so make sure you check your stroller dimensions.
How to find your Stroller at Disney
-Place a bright colored bag on top (we had this awesome LeSportsac Voyager backpack that we kept on top of the stroller. It made it very easy to spot our stroller among the see.
-Add ribbons to your stroller handle (just like a suitcase if you add some ribbon you'll know which stroller is yours)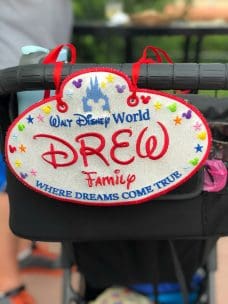 -Add a sign to your stroller. Etsy has lots of options or you can print one out and laminate it. Another option is add Duck Tape to your stroller handle (Some people used patterned Duck Tape, you know if won't be removed)
-Use
Velcro Brand Decor Wraps
to jazz up the handle (I love this stuff, and after you're done you can use it for decorations about the house or for a party)
-Tie a balloon to the handle. If you're going to buy one you may as well make it work double duty!
–
DisneyBound
your stroller. I saw a stroller that was decorated to look like an alien from Toy Story it was adorable. I only regret not taking a picture of it.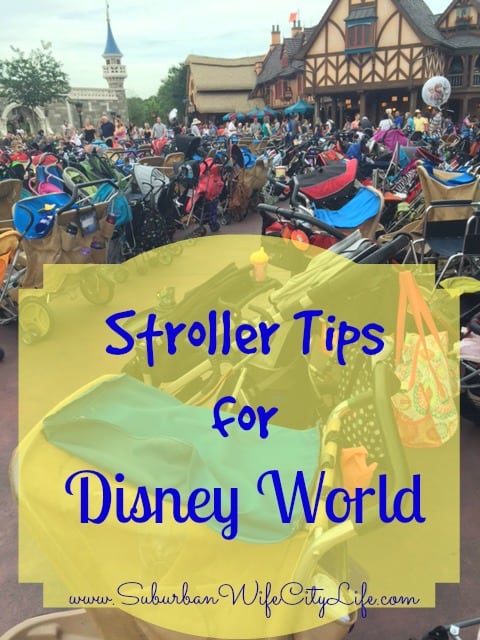 Stroller tips for Disney
A few other tips I have when using a stroller.
-Make sure when you go inside you leave the sunshade open. This way if you go into an attraction or ride and it rains unexpectedly the seats won't be wet!
-Be prepared to go through security before entering the park, so don't shove everything in the bottom till you're in the park. This is why we put the bag on the top
-Use a
Mommy Hook
– this was key for us as we would connect the bag to it so it wouldn't fall off.
What to know about Strollers for Disney
What tips and ideas would you share about bringing a stroller to Disney? How do you like to decorate yours?
This post was originally published July 6th, 2015!
Looking for other Disney Tips? Make sure to check out these: