There are lots of things to do, see and enjoy at Disney World. Each park has something unique and special about it and my kids love Animal Kingdom and are always excited to be Wilderness Explorers.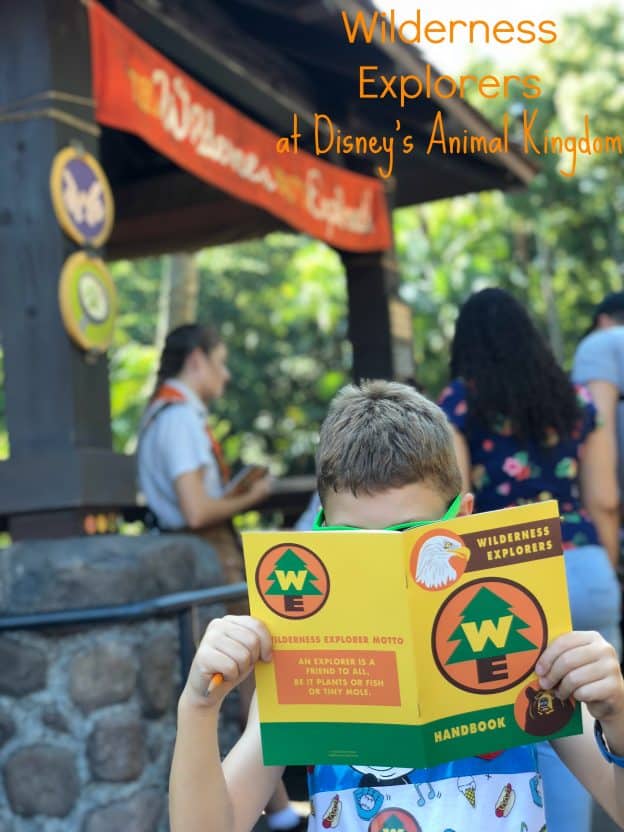 How to become a Wilderness Explorer
If you're familiar with the movie Up then you know about Wilderness Explorers and how they earn different badges. Well, everyone has to chance to be a Wilderness Explorer at Animal Kingdom.

As you come into the park you'll see a little station where you can pick up your WE handbook and even get your 1st badge. Make sure you check out the video above as C becomes an official Wilderness Explorer. Then as you walk throughout the park you'll see different tasks, boards and people who will help you earn your badges (aka stickers).
Wilderness Explorer at Disney's Animal Kingdom
My kids love this and we love that they are learning tons of different things. From money to birds or plants they are all about earning their badges. The age recommendation is 7-10, but we did this when the kids were 3 & 5 and worked together to figure out a lot of the things, then when we returned at 6 & 8 they knew the drill and did awesome on their own. Don't think this is just for kids I also saw a lot of adults doing is as well so it's not a bad thing to learn some new facts yourself.
You can earn up to 30 different badges, so it's not something you'll get done in one day. We've spent almost 2 days at Animal Kingdom and did almost everything, but ended up being 3 shy from completing the book.
I love that Disney has things like this to help make the experience even more fun, at no extra cost.
Have you completed a Wilderness Explorers Handbook?
Looking for more Disney Tips and Experiences? Check out my other posts: