If you're look for a fun and easy activity for the kids to get creative with, then check out this DIY coloring shirt.
When it comes to keeping the kids entertained I'm always thinking of different and creative ways to bring fun to the day. I had the idea to create a design that the kids could color in with washable markers. This way they could color it in one day, wash the next and then do the same thing over again.
Coloring Shirt
When it came to making this coloring shirt I knew I needed to use my Cricut. The big question for me was what would I use to make it, and I decided an Infusible Ink Shirt and Pen to draw the design, was the best option, and I'm so glad I took that route. I've got more info oh how to use Infusible ink, but you could also make this with black vinyl or black Infusible Ink sheets.
Supplies needed:
Cricut
Infusbile Ink Pen (Black is best and I used 1.0M)
Laser paper
Infusible Ink Shirt
Cricut EasyPress 2
Washable Markers
How to use Infusible Ink Pens
To start I created my design in Cricut Design Space. Here's my Summer Vibes design
Make sure you select Draw
Use laser paper on a mat and make sure you select Mirror Image
Insert your Infusible Ink pen in B and lock it in place
Once you're image is drawn it's time to adhere it to the shirt
Heat your EasyPress 2 to 385 degrees
Make sure you place a piece of card-stock between your shirt and then use a lint roller on the top layer to get rid of any loose bits
Place the EasyPress 2 on top of the shirt for 10 seconds to warm it up
Place the image face-down and be careful not to move it once it's down, then press for 40 seconds
Life the paper off when warm
DIY coloring shirt
Once the shirt is done it's time for the fun. We use Crayola Washable Markers, and make sure you put a piece of cardboard between the shirt as the markers will go through. What's great is watching the kids talk about why they are coloring in an item that way or coming up with an idea of how they want to color in the letters.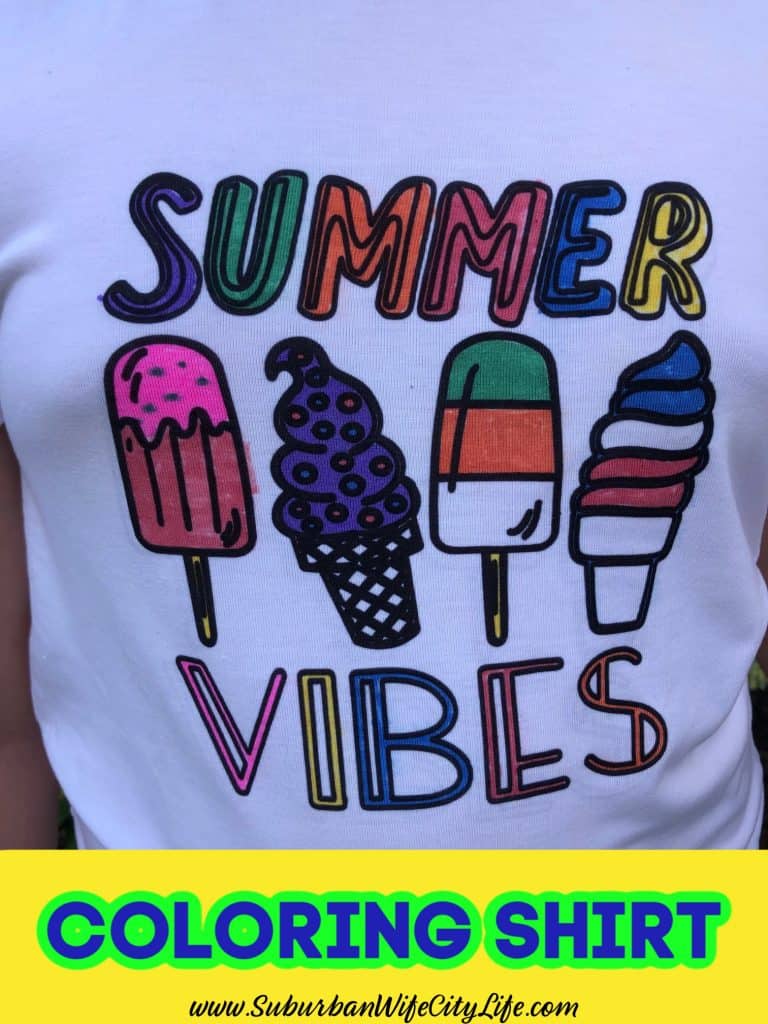 It's an activity that takes about 30 mins to do and then the kids are able to enjoy their creation for the day. Then pop it in the washer and pull it out for a whole new day of creativity!