As I mentioned before we recently hosted a Cars themed Birthday Party for Camden, and since we had the perfect Lighting McQueen jumpsuit for him. I wanted to make his birthday cake the perfect compliment to him so a Mater Cake was the obvious choice.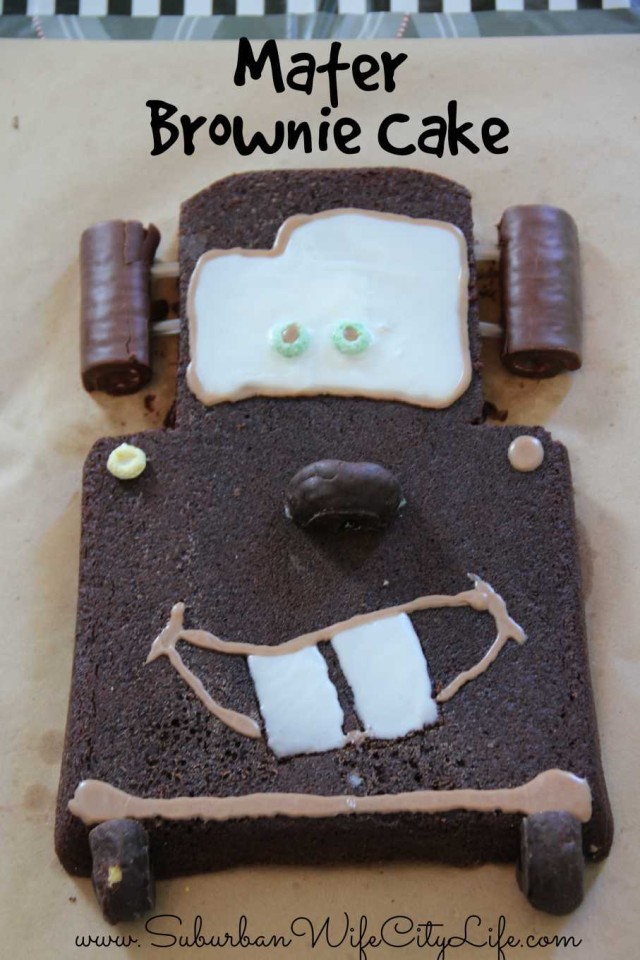 Mater Cake
I also went a little different. I decided to make a brownie cake.
Supplies needed:
Make 2 boxes of brownies in a 9×13 pan.
Swiss Rolls
2 Mini Chocolate donuts
Straw
Fruit Loops or M&Ms (3 green 1 yellow)
Confectioners sugar and milk for frosting
Cocoa Power
How to make a Mater Cake
The key to making this is having fun and making the brownies so they have enough time to cool.
Cars Cake
Step 1: Make both boxes of brownies in a 9×13 pan making sure you coat the pan so the cake can transfer easily. We used a baking nonstick cooking spray with flour
Step 2: Flip the cake onto a cooling rack and allow to cool before transferring it to a platter. We chose to keep the bottom as the top, but I think I would switch it to give more texture next time.
Step 3: Cut out the sides of Mater. We measured 2 inches on each side.
Step 4: Take one clear straw and cut it into 4 pieces
Step 5: Use the swiss rolls as the rearview mirrors and the straw to attach them
Step 6: We traced out with a knife the shape for Mater's face, smile and teeth.
Step 7: Mix together confectioners sugar and milk to make a liquid frosting. Tip: Add the milk small bits at a time till you get the best consistency. You don't want it too thin, or too thick. You also don't need a whole bunch.
Step 8: I used the whisk and fork to drizzle the face, and teeth on.
Step 9: Once the face and teeth are done add the green eyes and yellow headlight.
Step 10: Add a little cocoa power to the icing to give it a brown color.
Step 11: Put the icing in a plastic baggie and cut a VERY tiny hole on the corner, then pipe out the smile, around the face and the bumper.
Step 12: Cut 2 mini chocolate donuts in half. Use the icing to attach for the nose, two tires on the bottom, and enjoy the other half as a reward.
It's really quite simple and just as time consuming as making and icing a cake, plus you don't need to have any specific decorating tools. As long as you have a 9×13 pan and 45 minutes you can make this super fun cake that any Cars fan will love!
Looking for other cake ideas?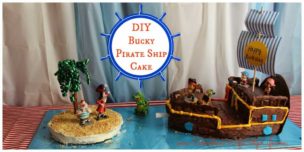 I also have an easy DIY- Bucky Ship!
Coco guitar Cake