Did you know there's a Broadway musical based on Spongebob SquarePants? That's right, and I asked for tickets to see it as my holiday gift. Now, I'm sharing why it's the Best Day Ever to see it with the family.
To start I must disclose that I am not a fan of the cartoon show. I was a little too old when it launched in the 90's and while my kids are in the right age I don't really let them watch it. So why would I ask for Broadway tickets? Well to be honest I was intrigued with how they would pull this off and a fellow Maplewoodian (Gavin Lee) is starring as Squidward so a lot of our friends saw the show and came back saying how amazing it was. So I got tickets to take Eleanor and then in the end I decided this would be a perfect 1st Broadway show for Camden, so we snagged 2 more tickets to make a family adventure to Bikini Bottom in NYC.
When we walked into the theater we felt as if we walked directly into the ocean. The feel of water surrounding you is done perfectly and with bright colored sets and playful music you'll want to be sure to get to the theater before curtain. We made a point to get an aisle seat and put Camden on the end and I'm so glad we did this. The interaction throughout the show is magical and there were a few high 5's and winks in our direction from the cast.
The music for the show is a little different than your typical Broadway show because all the numbers are penned by different artists, yet they blend and move the story along seamlessly. We each have a favorite different song, and we totally walked out of the theater singing Best Day Ever and BFF.
The costumes and props were done with imagination and a creativity that left you feeling wonder and awe. For me the best part was watching the sound effects guy. It's amazing how his timing is so spot on, and with so many different effects.
What makes this show so different is the actors aren't trying to play cartoons. If you're familiar with the characters you'll see them, but it's done in such a classy way and with amazing voices that you feel as if you're meeting these people and part of the adventure.
Watching my kids enjoy the show was the best gift and with a running time of 2 hours and 20 minutes (there's a 20 minute intermission in there) it was perfect. We didn't find any big dull spots in the show, and really loved all the different music styles, costumes, dancing and the story of never giving up.
I've found that since I've seen the show I'm recommending this to everyone whether they have kids or not because it's a fun time and will put a smile on your face and make you walk out singing it's the "Best Day Ever!"

If your looking for a fun and entertaining show add Spongebob Squarepants Broadway to the list!
Make sure you check out my other posts about theater & NYC!

Where to buy Discount Broadway Tickets

Where to get Audience Member Tickets in NYC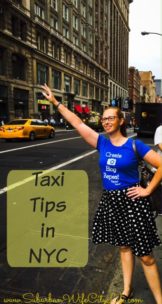 Where to get Audience Member Tickets in NYC