Growing up in Delaware a summer tradition was hosting or attending a crab fest of some sort. Over the years I like to think I've gotten pretty good at picking crabs, so I decided I would share some tips and exactly how to pick a Maryland blue crab for you!
I have some fond memories of going "crabbin" with the family and bringing them home, where one would always get loose in the kitchen and bring laughs and joy. The tradition has continued with my family and it's also my Mother's Day meal.
There's nothing better than sitting down for a few hours with friends with loved ones to chat, pick, eat, laugh, pick, drink and just enjoy some time together. This meal isn't a quick one, and while some people say "It's too much work to pick those crabs" I beg to differ. There's a lot of meat in there, and while it's a little bit of work, the reward is Delicious.
Tips for picking crabs:
Lay down some paper on the table. This can be newspaper, brown paper, but it will make the end clean up a lot easier.
Take off any jewelry on your hands or wrists.
If you have long hair pull it back or off your face. As your hands get dirty you won't want to push it back.
Go to the bathroom before you sit down. Nothing's worse than being in the middle of your 1st crab and deciding you have to go to the bathroom
Get a trash bowl or bucket. Keep 1 or more big bowls to throw away shells, legs and anything else. This way you can just pick up the whole thing and toss it.
Prep your melted butter and Old Bay. I like to have a small container of each so I dip my meat into both.
How to Pick a crab:

I could explain exactly how to pick a crab, but I thought it would just be easier to pull it together in this video. I pride myself on only using a butter knife and my hands, but I do find crackers aren't bad for the claws. I'm not a fan of mallets because you end up with too much cartilage and it's tougher to pick, but that's my opinion.
Don't forget to keep your Old Bay on hand and that you can also stockpile the meat and make some tasty dishes. My friend Sarah has this Maryland Crab Soup recipe that looks like a great lunch or dinner with the leftover meat.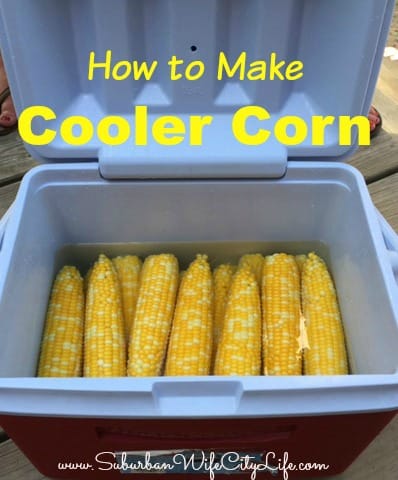 We also like to serve sides of corn on the cob, and I've got an easy way to prepare a big batch that stays warm while you pick with my How to Make Cooler Corn Video!
Happy Picking!