We are huge Harry Potter fans, and have attended quite a few parties, movie nights, and even dressed up for Halloween. When it comes to party planning I like to check out Amazon Prime to make planning easy and I've pulled together a list of supplies and ideas for a Harry Potter Party using Amazon Prime.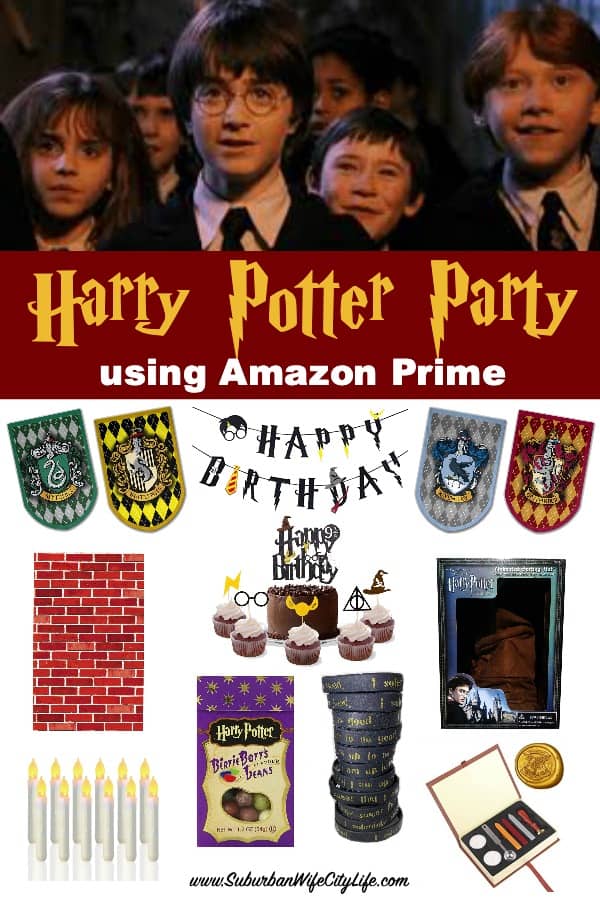 Parties are fun and this is something that should be kept in mind. When picking out items you want to keep in mind your space and all the things you'll need to have or buy to pull off the look you're going for. I've pulled together an idea list on Amazon to make it easy for planning. Check it out: Harry Potter Party Ideas.
Harry Potter Party Decorations
When you walk into a house and see letters flying out of a fireplace you know it's going to be a good time. This is pretty easy to accomplish you just can't forget to get all the things you'll need to make it happen, wire, hooks, envelopes, and more. To see all these supplies in one place check out my Harry Potter Party Idea List!
Harry Potter Floating Candles
The look of floating candles and a set table takes you directly into the great hall at Hogwarts. Set your table and hang some banners and you've created the perfect setting.


Harry Potter Photo Booth
Why not remember the party with a photo booth. Grab some props, a fun backdrop and you'll have great memories of a fun party.
Sorting Hat Game
You've arrived to Hogwarts but now it's time to be sorted. Use a sorting hat to help figure out which house your party guests should be in, and maybe add a framed list of what each house represents and stands for.


Harry Potter Party Activities
I love to have an activity or craft, and there's a lot of options for a Harry Potter party, but my favorite is when the kids can make their own wands. I mean the wand does choose the wizard!


Harry Potter Party from Amazon
What's great is the fact that Amazon can be your one stop shop. Get all the decor and activities you need with just a few clicks. I even have a Harry Potter Party Idea List to make it easy for you.


Who will you throw a Harry Potter party for?
Make sure you check out my other Harry Potter posts:
Harry Potter Gift Guide

Golden Snitch Shirt

Golden Snitch Costume