The 100th day of school is always exciting and making a shirt with 100 things on it is a fun assignment for the kids. Unicorns are a favorite for kids right now and this 100 magical days shirt shows the love for them and school!
The 100th day of school shirt is one of my favorite things to make. We've done 100 Super Days, and 100 T-riffic days and 100 Sweet Days. So adding 100 magical days made sense.
100 Magical days shirt
Supplies
White shirt
Heat transfer vinyl (metallic pack and glitter)
Cricut
Easy Press 2
Easy Press Mat


How to make a 100th day shirt
Add 100 unicorns to the shirt. We did 20 each unicorns in 5 different colors.
When you're cutting out the unicorns don't forget to hit mirror image and play the vinyl shiny side down.
Cut and weed your unicorns
Place the unicorns on the shirt and use your EasyPress 2 to iron them on.
How to use scraps of vinyl
I love that this project can be done using vinyl scraps. With each image just under an inch you can really use those smaller odd shaped pieces.
How to move images to cut in Cricut
When you place the vinyl on the mat pay close attention to where it lays.
Then after you hit cut move the designs to align with the vinyl.
It's easy to do and helps ensure you're using all of the materials.
Does your school celebrate the 100th day of school?
Don't forget to check out the other 100 days of school shirts!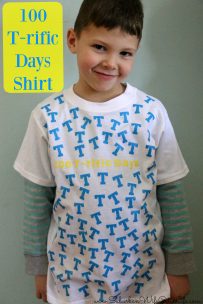 100 T-riffic Days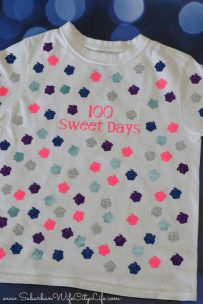 100 Sweet days