There's something to be said for playing a game with just 2 people. We enjoy 2 player games for evenings in or one on one with the kids. Here's a list of 25+ Games for 2 players for couples or families.
What's great about 2 player games is the chance to unplug and connect with another person. It could be your partner, a child, parent or grandparent.
Of course we love all kinds of games, so I suggest you also check out, Mystery Games, and Puzzles, and Games about States and Capitals.
Card Games for 2 players
Cards are easy to learn, travel well and can work in small spaces. We play card names nightly just to connect as a couple or family.
Cooperative Games for 2 players
Working together to complete a game or goal is a great reminder that sometimes it's best to work together.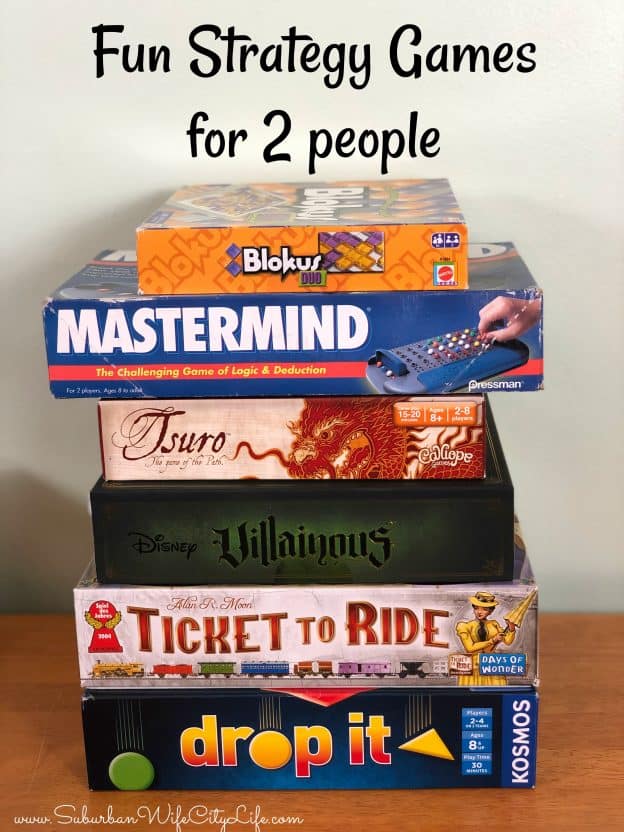 Strategy Games for 2 players
We have gotten more and more into strategy games over the past few years. Thinking and planning moves while playing games has given our game night a different feel. What great about the list below is some games are done in 10 minutes and some take an hour. So there's a mix for you to enjoy.
Classic Games for 2 players
Of course there's chess and checkers, but I wanted to pull some other games that I feel are classics and people usually already have. If you don't have these check them out as they don't disappoint.
While all of these games are 2 player some of these games also work great for more people.
People often think you have to have a big group to play games but that's not the case. I encourage you to pull out a game from the closet and play it with your partner or maybe get a new game as a Valentines or birthday gift.
What's your favorite 2 player game to play?