I love pictures, it doesn't matter if I'm taking them or having a pro do it. It's a way for me to keep memories and be able to share our adventures. So when we booked our 7 day Disney Cruise I debated over if it was worth it to by the Disney Cruise Shutters Photo Package. In the end the idea of someone else taking the photos won and I bought the package so I'm sharing if I think it's worth it or not.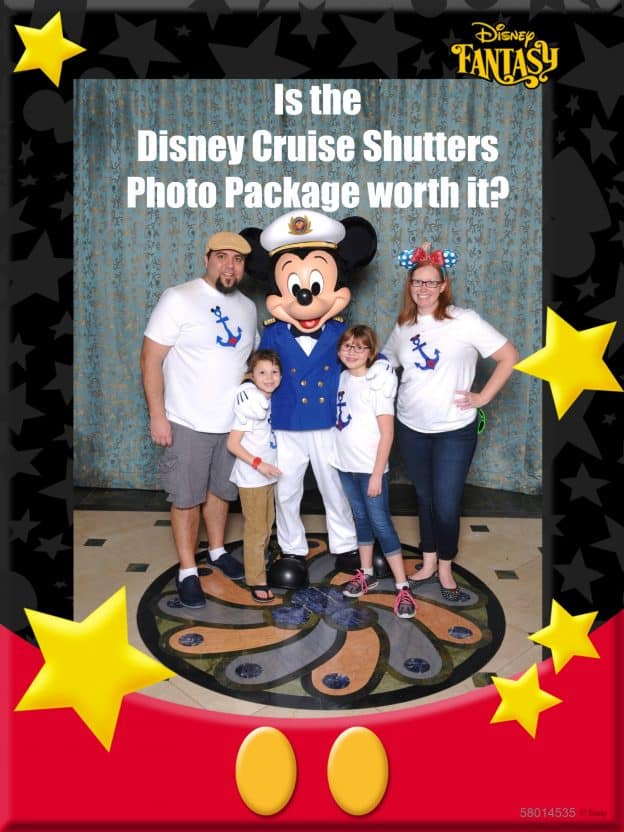 Let me start by saying I always buy the Disney Memory Maker when we visit the parks. It doesn't matter if it's the MaxPass at Disneyland or a week at Disney World it's always worth the money. The Shutters package on the cruise isn't run by Disney and has a higher price so I really debated if I wanted to spend the money since I knew there wouldn't be as many photo options or any magic shots. I spent $300 buying the package in advance for our 7 day cruise so I could get a USB with all our images.
Shutters Photo Package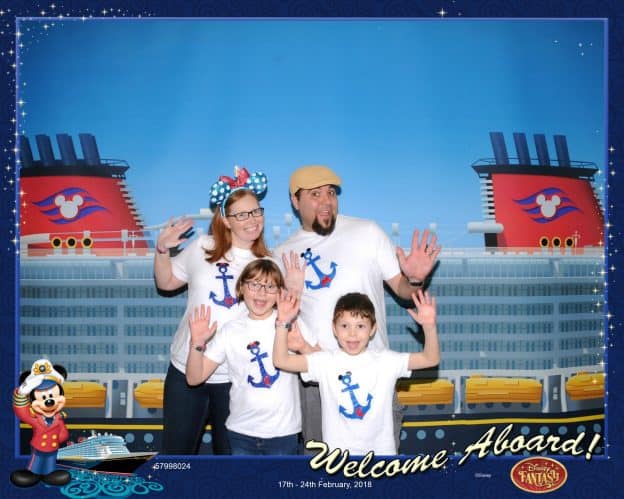 From the moment we got to Port Canaveral if I spotted a photographer I rallied the family to get a photo. I was so excited to be boarding and of course we wore our matching Disney Cruise family shirts.
As we got settled I checked out the Navigator because we I wanted to get character photos. The reason I love getting the character photos on the ship is because the wait is usually 15 minutes or less. They do a great job of keeping the line moving and bringing out different characters. Sometimes you get a rare one, like we ran into Geppetto, there wasn't a photographer with him, but we used our cell phones.
I checked out the photos after the 1st day at the Shutters kiosks, and that's when I realized that every photo has a big, colorful, wild boarder. When I asked if these could be removed they told me no. This really bummed me out because I didn't want this. One of the things I love about the Disney PhotoPass is you can add boarders if you want, but you have a nice photo without them.
While the photographers are good, I was a little disappointed with some of the framing of photos. Now remember the person with the character will also take a photo with your camera, but they don't always do a great job. There's no framing or making sure it's a perfect picture because they have you focus in on the pro photographer.
What does the Disney Cruise Photo Package include?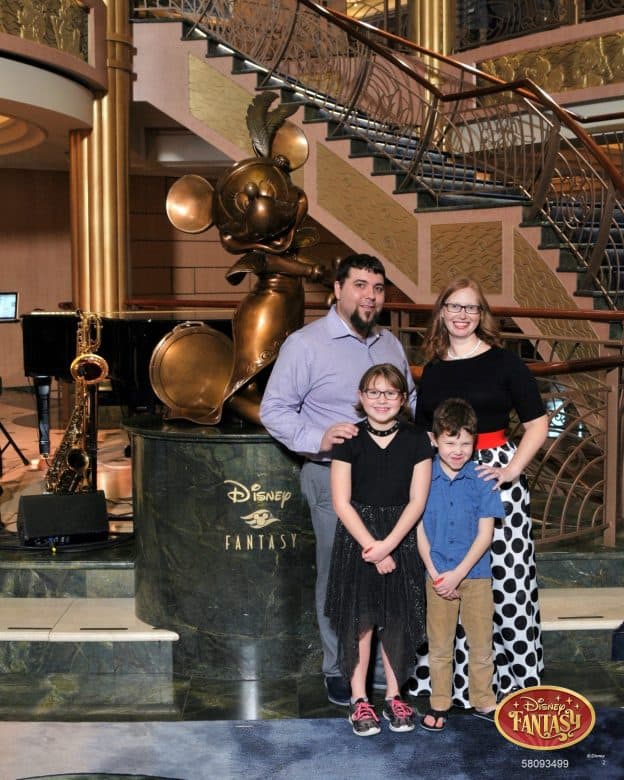 For formal night there's multiple different photo opportunities, and when I asked if they would take a photo with my camera they said they can't for formal night so I suggest you make friends with the person in line behind you for that photo. They do spend a great amount of time to pose you and give you multiple options, kids only, adults only, whole family. This was our best family photo and just makes me laugh!
Now you'll also see photographers roaming around during dinner, and trying to snap some photos. While it can feel a little weird, I actually really liked these photos. I think because the kids could have some fun!
If you're headed to Castaway Cay there are some photographers walking the beach. I had my eagle out for them, because I wanted some cute shots. Sadly it didn't pan out for me, and the weather wasn't cooperating either so our time on the island was short.
The last and most important thing to know is on the last night there are no photographers out taking your photos. So when they are doing the Till we meet again your phone/camera is the only one. They are busy putting together the photo packages which you'll need to stop by and pick up either that evening or the next morning before you leave.
Is the Disney Cruise Photo package worth it?
So would I purchase this package again? Honestly, I don't think I would. If they decide to get rid of the boarders I would reconsider it, but it was a lot of money and I'll now need to go and edit and crop photos to avoid the boarders. I walked away with about 70 photos for the week that I can use, and trust me I sought out the character meet and greets. The photos themselves aren't bad, and I like that I didn't have to bring my DSLR, but I wouldn't have been happy with the cell phone only photos so I'm glad I tried it out and tested the photos.
Have you been on a Disney Cruise? Did you purchase the Shutters Photo Package?
Make sure you check out other my Disney Cruise Line posts:
Brunch at PALO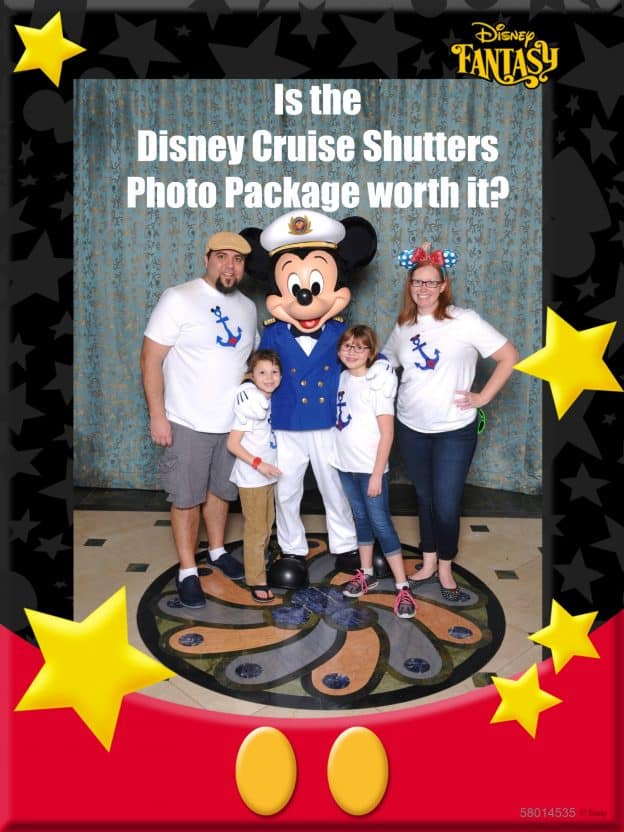 Ultimate List of Disney Cruise Tips
Fish Extenders DIY