Is your family ready to embark on a Disney Cruise? Do you like to wear matching Disney Shirts? It's become a tradition for my family so when we took our 1st Disney Cruise on the Wonder I had to come up with a fun Disney Cruise Family Shirt with my Cricut.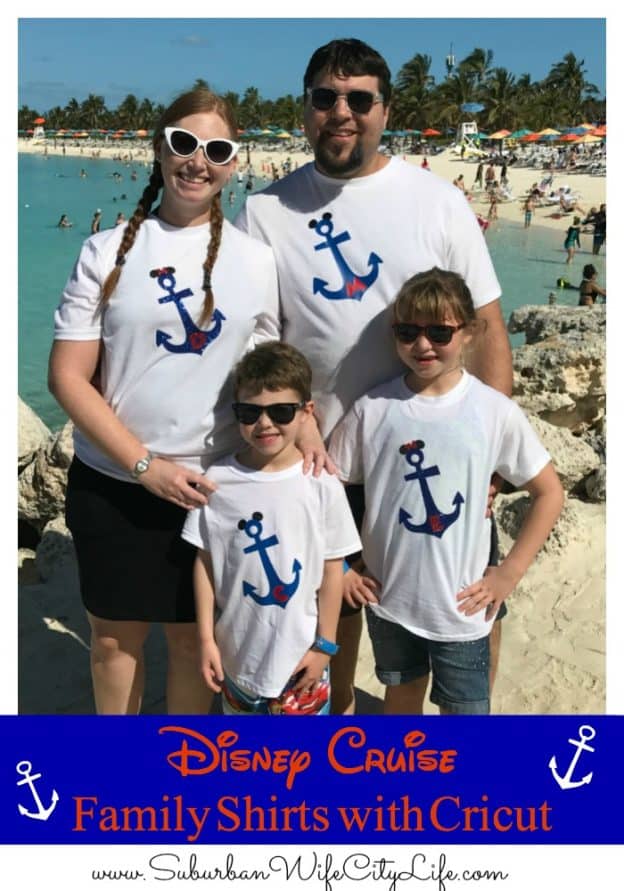 I have my traditional Family Disney Shirts, but really wanted to make something that was more nautical, but similar.
Disney Cruise Family Shirts Supplies:
Step 1: Open Cricut Design Studio
Step 2: Insert image: the Anchor from Mickey & Friends. Remove the red background and I made mine about 6 inches in width.
Step 3: Insert image: Mickey Ears. Remove the yellow background. I made it so it fit behind the top of the anchor. So the ears would poke out!
Step 4: Insert text: Letter of your 1st name using the Mickey Font. Place in the center of the bottom of the anchor.
Step 5: If you want to add a bow insert a bow from Mickey and Friends.
Step 6: You'll want to select your letter and then your anchor and slice it. This way you aren't putting vinyl on vinyl.
Step 7: If you add a bow to the ears slice that as well.
Step 8: I recommend you make each piece the color of the vinyl you want to print. You can change the color by clicking on the scissors.
Step 9: When your design in good. Click Go!

Step 10: Super important: Make sure you select mirror image for each mat.
Step 11: Now double check that you have the dial on your Cricut set to Iron-on vinyl or if you're using glitter iron-on the 2nd notch.
Step 12: Load your mat with the iron-on (Heat transfer vinyl) shiny side face down.
Step 13: Click go and the the cut button on your Cricut.
Step 14: Repeat with each color vinyl needed.
Step 15: Once all your pieces are cut it's time to weed the excess vinyl and iron it all on.
Step 16: I did hand cut the ears to make it fit under the anchor. Then you want to place everything on the shirt to figure out where things go.
Step 17: I decided to iron on the ears and letter first. Then I added the anchor and bow. You want to make sure you use a thin piece of fabric or nylon between the iron and the vinyl. Make sure you get a good seal and then peel back the top layer slowly.
I love how cute and personal these shirts are. We decided to wear them when we spent on day on Castaway Cay, but they would also be great for the 1st day for the sail away party. My only regret was we didn't get a photo with Captain Mickey, but we did get some great ones on the island with Fun in the Sun Mickey!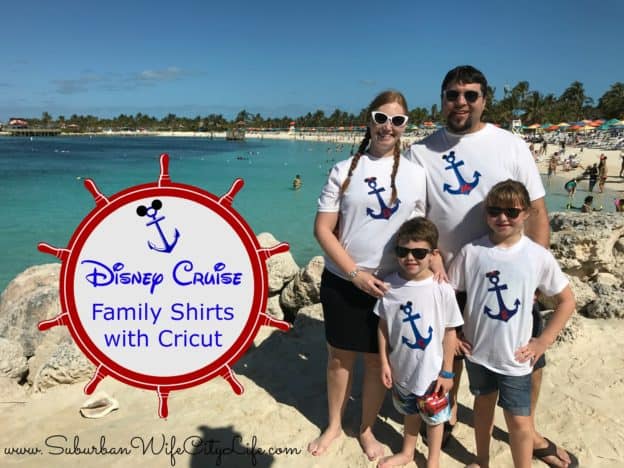 Does your family like to wear matching shirts when you do Disney?
More Disney DIY Cricut Projects