It's no surprise that my family loves Disney and we're always thinking about when we'll go on our next Disney trip. So I decided that it would be fun for us, as a family, to save for our next trip and made a Disney Fund so the whole family can work together on saving.
There are some super cute Disney Fund out there and I have a HOME T with the castle and whenever I wear it the kids always want to know when we'll get back to Disney and one day I said to them: Well we have to save to go "Home" and that's when it hit me for the perfect idea. Saving to go home with the castle.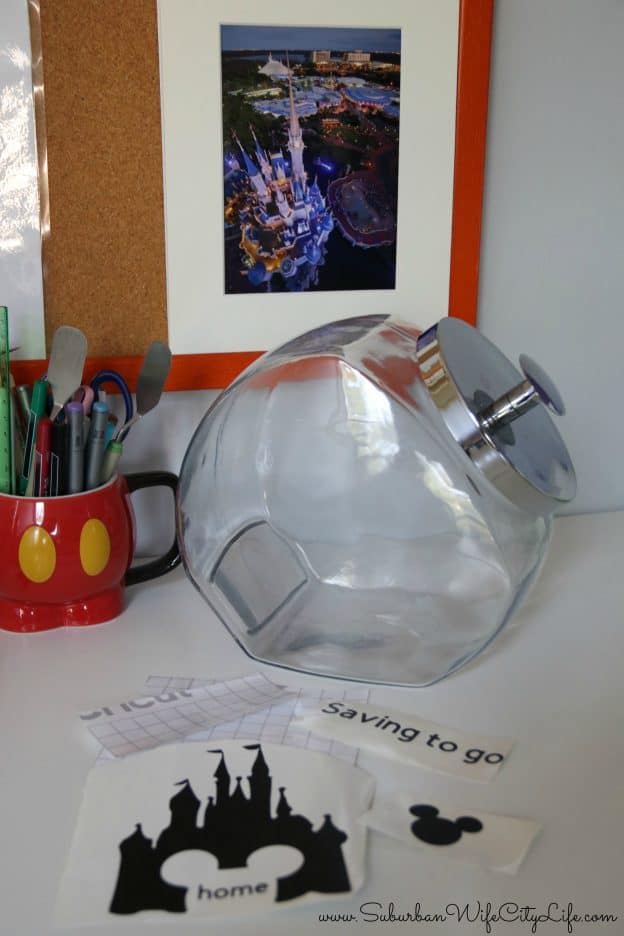 Supplies needed:
Jar
Black Vinyl
Transfer Tape
Castle image
Mickey image


I wanted to have a big enough jar that we could really work to fill and that had an easy on and off lid so the kids can add to the fund so I went with a penny jar, but there are tons of options out there.
I used my Cricut to upload the castle image, I bought mine from Etsy, and add the text Saving to Go and Home. Since I already own the Mickey and Friends cartridge I added a Mickey head for the top of the jar. I set my machine to cut vinyl and then let it do it's thing.
After I weeded the letters and images I put the transfer tape on top and then used my scraper to allow it to adhere. When I pulled back the transfer tape I then applied it to my jar from the center working my way out to avoid air bubbles. I also used the scraper and my weeder to get some of the letters off. Don't apply your image too close to the bottom you won't be able to see what it says. Repeat with the letters and add your Mickey head to the knob on the lid and you're done.
Overall this project took about 20 minutes and I'm so happy with how it turned out. We've started to fill the jar with both money and Disney Gift Cards so when we book our next trip or cruise we'll have worked together as a family to make a magical vacation.
How do you save for Disney?
More Disney DIY Cricut Projects
Don't forget to check out my other Disney DIYs:

Disney Balloon Umbrella

Family Disney Shirts

Disney Magnet Wreath